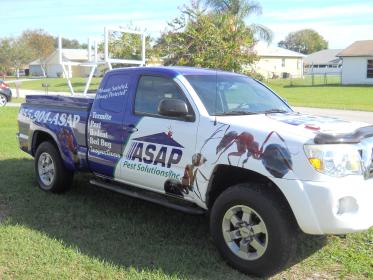 If you have a animal pet in Florida such as a dog or cat, you may find yourself dealing with a flea infestation.

Flea are extremely good jumpers and hitch hike into your home on your favorite pets. Fleas have 4 stages of life (egg, larvae, pupae, adult) or complete metamorphosis.

The easiest stage to control is the larvae stage. Infestations of fleas require 2 treatments to break that life cycle. Getting rid of your pet will not get rid of your fleas.

As a matter of fact if you remove the host *your pet they can and will bite the next best host, you!

If you happen to find yourself in need of Palm Bay, FL, flea control services, ASAP Pest Solutions, Inc. is a locally owned and operated business that offers prompt, professional service for all your pest control needs. We have service plans available on request, or we can just come out for a one-time service. Whatever your needs are, we'll be sure to leave your home pest-free.

Our business has more than 24 years of experience in the industry, and we're dedicated to your satisfaction with our work. When you hire our fully licensed and insured technicians, you can expect:


Same-day service
Free inspections
Eco-friendly options
Customizable service plans
At ASAP Pest Solutions, Inc., we offer pet- and child-safe treatments you can count on. Call our office staff today to schedule your first Palm Bay, FL, flea control service. Our technicians are available to service you Monday - Friday, 7:30am - 6:00pm, and Saturday, 8:00am - 12:00pm.